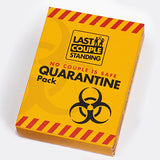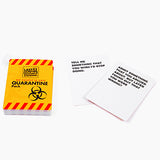 Quarantine Pack gives you a chance to connect intimately with your significant other - strengthening your bond with laughter and meaningful conversations. Seize the opportunity to start fresh and create lasting memories!
Fun for any relationship status; married, engaged, or just kickin' it.
Fast & Free US Shipping for orders over $50!
Fun or it's Free Guarantee!
40+ Intimate question cards
Stump cards
Printed on premium poker-sized cards with a smooth linen finish. Shrink wrapped in a custom box.
The game is played one on one.

1. Each person gets dealt 5 question cards. Put the remaining cards in the center of the table.
2. Take turns asking each other one question.
3. Try to stump the other person by asking them questions you think they wouldn't answer. Stump them 3 times and they're eliminated and you're the winner. Each question has a 20 sec time limit. Use your phone as a timer. If you draw a "Plead The Fifth" or "No, you answer it!" card use them to get yourself out of a sticky situation.
Where can I buy Last Couple Standing?
The game is currently only available for sale on lcsgame.com.
How long is shipping?
We ship daily. But there is an 8 hour delay before your order is processed to allow for address corrections and other changes to your order. Usually, you'll get your game in 3-5 days.
Do you ship internationally?
We ship all over the world. Shipping rates will apply.
I'm in Atlanta can I pick up my game?
Unfortunately we don't have a retail location for pick up.
Is the game for couples only?
Yes.