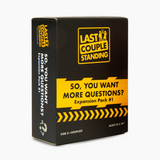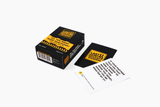 So, you want more questions? Here's more questions. Extend the replay of Last Couple Standing.
This expansion features some questions we thought were too much. You can sanitize the deck if you like or decide to jump right into the experience and mix everything in.
Fast & Free US Shipping for orders over $35!
Fun or it's Free Guarantee!
108 new questions.
A new special card called "Stump Remover".
Printed on premium poker sized cards with a smooth linen finish. Shrink wrapped in a custom box.
Where can I buy Last Couple Standing?
The game is currently only available for sale on lcsgame.com.
How long is shipping?
We ship daily. But there is an 8 hour delay before your order is processed to allow for address corrections and other changes to your order. Usually, you'll get your game in 3-5 days.
Do you ship internationally?
We ship all over the world. Shipping rates will apply.
I'm in Atlanta can I pick up my game?
Unfortunately we don't have a retail location for pick up.
Is the game for couples only?
Yes and no. The main game is made for multiple couples to play against each other. But we do offer the "Quarantine Pack" as a free gift when you buy today. It's 54 much tamer questions for one on one play. You can also convert the main game questions for one on one but, ya'll better be rock solid for that.